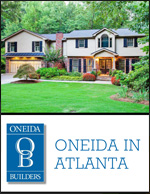 It has been said that a man who works with his hands is a laborer and he who works with his brain is a craftsman, yet the man that works with his heart is an artist. As for a man that works with his hands, brain and heart, he is known as Rocco Sinisgalli, the Owner and President of Atlanta-based Oneida Builders.
Oneida Builders is one of Atlanta's most-respected and award-winning firms specializing in residential restoration, design and construction services. From kitchens and bathrooms to basements and bedrooms, Oneida can capably address any manner of home remodeling requirement or construction challenge and over the last 15 years, has been the go-to firm of choice for Atlanta home-owners who demand quality, integrity and expertise when sourcing a general contractor. That's an important aspect of Oneida's distinction because the fact remains to secure licensure as a general contractor, one need not necessarily be a hands-on building expert; yet when it comes to this company's founder and president, Rocco Sinisgalli, he is not simply a contractor, but a master craftsman and carpenter whose own exacting standards of excellence are imparted in every project undertaken by Oneida. Sinisgalli says his company's mission is to enhance homeowners' lives by improving their existing living spaces. As a testament to the company's fulfilling of that mission, Oneida has repeatedly earned honors as one of the best in business; distinction which includes seven awards for professionalism in residential remodeling from the Greater Atlanta Home Builders Association, five awards as a top remodeler from Associated Builders and Contractors of Atlanta, and has twice secured the Atlanta Housing Industry's highest accolades in categories respectively involving whole house renovation and master bathroom design and construction.
Beyond the quality in the firm's craftsmanship, there have been at least five occasions when Oneida has been conferred with Guild Quality Awards for outstanding customer service, which speaks to Sinisgalli's focus on collaboration and communication. "Most people think of me as a builder or remodeler, but sometimes I feel more like a marriage counselor," jokes Sinisgalli. He says sometimes it is a challenge balancing all the remodeling requirements demanded by a wife whose husband is paying for services with a different perspective on budgetary restraints. Constant communication and clear understanding of expectations is, therefore, a fundamental aspect of service rendered Oneida. For those that hire Oneida, there are other benefits which come from working with someone who not only fully understands his work, but also genuinely loves that work; in fact, Sinisgalli began honing his skills when he was only a little boy.
Emerging Expertise
Raised in the Oneida County community of Utica in New York, Sinisgalli was in second grade when a teacher asked what he might want to do when he grew-up. He instantly replied that he wanted to have his own building and home remodeling company. "Probably because it seemed like nothing ever got fixed in our house… my father was an old-school Italian gambler and when something needed to be fixed, it meant you used duck tape and a butter knife." As he matured, Sinisgalli went on to study construction and accumulated more than ten years of experience serving as a carpenter for a custom home builder in Utica, New York. He was only 19 year-old when he purchased his first house which came with a measure of remodeling needs which he approached with utter enthusiasm. As for New York winters however, these were increasingly less appreciated. "I got smart one day, on a day when it was about eight below zero, I decided to pack up my truck and head south," recalls Sinisgalli. He had established some contacts with builders in Atlanta and stayed there for about a week. It was 1996 and business in Atlanta was booming. The range of work opportunities, as well as the 71 degrees of warmth in February prompted Sinisgalli to cast his professional fate with this market. After taking on various projects for different builders, Sinisgalli ultimately went on to open Oneida Builders in 1997 and his business has largely grown from referrals as well as repeat business from existing customers. In recent years, he has also become one of the most recognizable industry professionals due to his former hosting of a television program as well as radio appearances involving home remodeling and sustainable building practices.
Sustainable Success
Locally recognized as "The Green Guru," Sinisgalli has emerged as one of Atlanta's most capable in green building practices, which is not only good for the environment, but help homeowners achieve long-term savings from reduced utility costs. That's critical as Sinisgalli reports that in recent years electricity prices have increased by more than 70 percent, but "green" homeowners are spared from the impact of elevated costs. Sinisgalli acknowledges that this may often mean more in up-front costs, but they more than pay for themselves in the long run. "Some customers have air conditioning running for nine months of the year and heat running three months out of the year, but no idea about how much energy they're using. Some have no interest in embracing the efficiencies which come from green practices, but I'll ask them, 'If I take my drill and drive five pinholes in your gas tank, would you spend the two thousand dollars to repair it?' Most will say, 'Of Course!' because they're concerned about wasting gas. I tell them it shouldn't be any different when it comes to energy being wasted, they might have fifty percent of their air leaking air through ducts … so I try to educate them on solutions to overcome these problems… and I never recommend a green practice that I haven't already done in my own house," says Sinisgalli.
At present, Sinisgalli is striving to expand opportunities with national manufacturers of greed products, such as special insulation, to promote greater awareness of strategies which impart greater sustainability in home construction and remodeling. While these homes have been found to be both energy efficient and beneficial to physical health, in many communities such homes also have higher resell value. Sinisgalli says there is challenge in Georgia as the state has only one person qualified in making "green" appraisals involving home value. "Mortgage companies don't get it right now, but that will change one day. Every builder and renovator would start focusing on green if it would mean getting even one lower point on mortgage rate, and I think that will eventually happen. It's a slow process, but I shoot for the moon and hope to land on a star someday."
For more information on the range of quality design, renovation and construction services provided by Oneida Builders, as well as a portfolio of completed, visit the company's website at www.oneidabuilders.net.