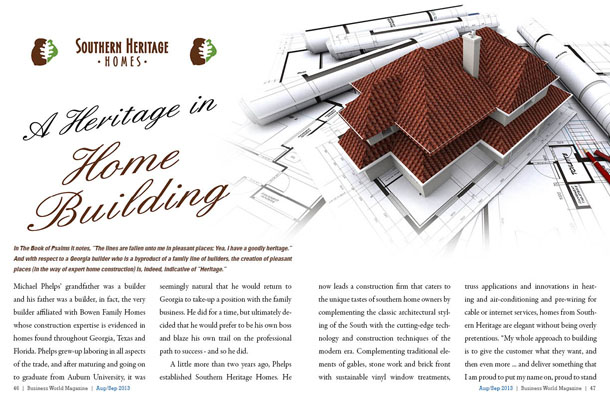 In The Book of Psalms it notes, "The lines are fallen unto me in pleasant places; Yea, I have a goodly heritage." And with respect to a Georgia builder who is a byproduct of a family line of builders, the creation of pleasant places (in the way of expert home construction) is, indeed, indicative of "Heritage."
Michael Phelps' grandfather was a builder and his father was a builder, in fact, the very builder affiliated with Bowen Family Homes whose construction expertise is evidenced in homes found throughout Georgia, Texas and Florida. Phelps grew-up laboring in all aspects of the trade, and after maturing and going on to graduate from Auburn University, it was seemingly natural that he would return to Georgia to take-up a position with the family business. He did for a time, but ultimately decided that he would prefer to be his own boss and blaze his own trail on the professional path to success – and so he did.
A little more than two years ago, Phelps established Southern Heritage Homes. He now leads a construction firm that caters to the unique tastes of southern home owners by complementing the classic architectural styling of the South with the cutting-edge technology and construction techniques of the modern era. Complementing traditional elements of gables, stone work and brick front with sustainable vinyl window treatments, truss applications and innovations in heating and air-conditioning and pre-wiring for cable or internet services, homes from Southern Heritage are elegant without being overly pretentious. "My whole approach to building is to give the customer what they want, and then even more … and deliver something that I am proud to put my name on, proud to stand by, and build a house that holds to standards I would have for a house that I would live in," says Phelps.
To further that mission, Southern Heritage, as a standard practice, sources and applies elements that impart a greater quality to a home environment, whether that's in the material used for flooring, the plumbing fixtures or some other architectural aspect. "We use highly efficient and highly engineered products in all we do," says Phelps. As part of the building process, the team here also conducts a quality testing to measure homes for heating/air efficiency or detect leaks in ductwork that would undermine efficiency. Phelps has additionally undertaken training in the building of Earth Craft homes, which reflects the efficiency and environmentally-friendly standards advanced by the Greater Atlanta Home Builders Association. Phelps says while the incorporation of some "green" nuances may ultimately result in minor costs up-front, homeowners ultimately see that cost returned many times over in the long-term from lower utility bills.
As a hands-on builder, Phelps is involved in every building project performed by Southern Heritage Homes. "Sometimes, larger companies outsource everything and are not directly engaged in the project, but I keep my hands on everything and am involved in every project we take on," explains Phelps, adding that this helps ensure his company is producing the quality for which he is determined to be distinguished. Southern Heritage Homes can be found Metro Atlanta communities which include Daniel Creek, Cypress Spring and Sugar Hill.
In terms of the future, Phelps envisions a day when Southern Heritage will extend into markets throughout the Southeast, such as Alabama and Florida. "That's the goal," says Phelps, but for now, his focus is to capitalize on opportunities offered in Atlanta which has seen resurgence in new home construction. Phelps says many builders were impacted by the recession in recent years, but he has noticed an upswing in his industry. Last year, Southern Heritage sold 17 homes, but Phelps says that he anticipates tripling that output this year. Southern Heritage continues to build upon their emerging legacy, adding capability, quality, and southern hospitality to good old-fashioned expertise.
To learn more about Southern Heritage Homes, visit the company website at www. southernheritagehomesga.com