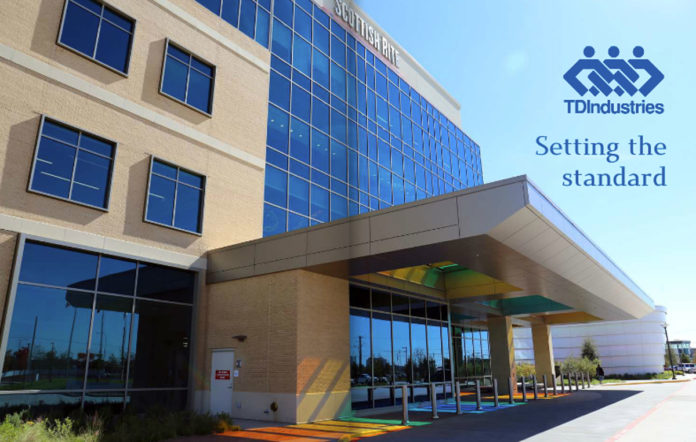 TDIndustries is one of America's premier mechanical construction and facility service companies. For more than 70 years, they have been delivering projects that reshape cities and their skylines. In that time, they have consistently outperformed customer expectations, delivering on time and on budget, and earning the loyalty of numerous clients. In collaboration with those clients, they have made their mark on a number of highly significant projects throughout the United States.
A recent example of such a project took place in Frisco, Texas, just outside of Dallas. There, TDIndustries recently made a particularly impactful mark with their delivery of the Orthopedic and Sports Medicine Center for Texas Scottish Rite.
That Orthopedic and Sports Medicine Center is located on the company's new Frisco campus, and was created to provide specialized treatment for sports-related orthopedic injuries and concussions. The facility includes a movement science center, occupational therapy, playing fields, a running and walking trail, and a playground park for patients and the community.
John Raner was the Project Manager for TDIndustries on that job. He recalls being involved relatively early in the process, as the project was run similar to an Integrated Project Delivery (IPD) platform – a project delivery approach that seeks to collaboratively harness the talents and insights of all participants in a project, in order to optimize results, reduce waste, and maximize efficiency.
"We were involved in the very early stages of the process, more or less in a design-assist role," John recalls. "Our input and what we had to bring to the table was very well received – not only by the engineering and architect firms, but by the owners themselves."
In particular, what TDIndustries contributed in the beginning was their insight on constructability. They were also able to draw from the knowledge of their own licensed engineers, as well as the company's depth of experience in healthcare projects across Texas and Arizona. They are also one of the few mechanical contractors that can handle everything from hydronic piping, to air distribution, plumbing, and medical gases – that kind of versatility was vital on a project like this one.
TDIndustries is also an eager collaborator, and they brought that spirit to the table as well. They worked closely with the designer, HKS Architects, as well as the engineering firm, which has since become part of WSP in Canada. In fact, the team worked so well together that they have united on a different project for the same client.
That client – Texas Scottish Rite – is one of the nation's leading orthopedic pediatric centers. They were founded almost 100 years ago by an orthopedic surgeon and a group of Texas Masons, and thus have a long history in the state – not unlike TDIndustries. The two companies also share similar values, making the partnership a natural fit.
According to John, those shared values have contributed to a very positive relationship between client and contractor. The strength of that relationship is proven by the many other projects the hospital has selected TDIndustries for, both before and since. In addition to their work on the Frisco campus, for example, the company has delivered a number of smaller projects on the previously-existing campus, and is engaged to deliver more.
A company that cares
TDIndustries (TD) has long been recognized by Fortune magazine's "100 Best Companies to Work For" list, earning a place on the Legends list. They have also been extraordinarily successful at retaining people, as it not uncommon to see Partners with 30-plus years of service.
John has been with TDIndustries since 2013. Randy Glass, the Superintendent on the Orthopedic and Sports Medicine Center, has been with the organization since 2007. Both men can personally attest to the company's excellent corporate culture.
"I grew up in the North Texas area, and I've always heard that if you wanted to work for a good company, then you should go to TD," John says. "My career has taken me all over the country, but when a position opened up here, I jumped on it. I'm glad I did. I wouldn't want to be anywhere else."
"TD is a very family friendly company," Randy adds. "My father-in-law and my brother-in-law work here, and when I got out of the military they told me how good of a place it was. I joined based on their recommendation, and I've been here over 12 years now."
That kind of retention is typical for TDIndustries. Both John and Randy credit the fact that the company is employee-owned, as well as the "Servant Leadership" philosophy they practice. That philosophy dates back to 1972, when founder Jack Lowe Sr. began the process of implementing it. Those guiding principles – which revolve around the growth and well-being of people and the communities to which they belong – are now woven into every level of the organization. They inform the way the company interacts with both customers and employees.
"When it comes to TD, I truly feel that the people above me and below me have always been there, and have always truly cared," Randy says. "To me, that's worth more than anything – to work with people who actually truly care about you as a person, not just as an employee. That's what has kept me here."
According to Randy, the company seeks to extend that tight-knit culture to include their project partners – including the contractors, subcontractors, and tradespeople they work with on the ground. On the Orthopedic and Sports Medicine Center, for example, Randy says all those stakeholders enjoyed a "very cohesive atmosphere."
"Everyone had the same goal in mind, which was to make this a very good project for everybody," he says. "It was a true collaboration. There was no bickering, there was no 'I have to get mine done, you wait your turn.' It was all about what was better for the project. Everyone was on board with that from the very beginning."
"You could go to anybody's office and sit down and have a productive conversation," he adds. "It was never 'me vs. you,' it was always 'what can we both do to help.'"
In many cases, the relationships on that project were brand new, which makes that quick cohesion particularly impressive.
"From day one, everyone did what they said they were going to do," Randy says. "Everyone was a man of their word, or lady of their word. We could trust each other. And the relationships we built were lasting – I haven't been on the project in several months, but I still talk with many of the people I met on that job."
So how did TDIndustries build that trust in such a short amount of time? Randy credits it to the transparency and honesty that everyone exhibited from the first meeting. He says building trust, especially in a construction environment, is "all about open and honest communication."
John adds that it's especially important to maintain that honesty in the face of challenges – and when there are challenges, to come to the table with solutions. He says that TDIndustries did that, which is why he believes the job went as smoothly as it did.
John also says that Randy deserves most of the credit for himself:
"The reason the job ran so smoothly is a credit to Randy Glass," he says. "He had the project's interest at heart at all times, and it really showed. He ran a first-class operation."
Randy strongly contests all of that, however. He insists that the whole team rose to the occasion, and he was just one small part of it:
"The team that we had out there, all the way around, was probably one of the best teams I have worked with," he says. "It's not to my credit. The team did such a great job out there, from John as the Project Manager, all the way down to the lowest level helper. Everyone was happy to be there, and everyone did their job."
Beautifully done
TDIndustries' scope of work on the Orthopedic and Sports Medicine Center included all air distribution for the hospital. That included air-conditioning, heating and exhaust – but it also included steam-producing boilers, which were needed for the autoclave sterilizers, as well as all the medical gases in the patient rooms.
According to Randy, the most challenging aspect of the project was installing a curved linear diffuser in the atrium, on a wall that "continuously curved, kind of like a snake." Getting a device built to the perfect specifications required "a lot of collaboration and a lot of meetings," he says – especially since the vendors were in Canada, and were not available to personally visit the site and inspect it for themselves.
"It took the sheet-rocker getting involved," he explains. "It took engineers, project management, field teams, specialty laser scanning – it was probably the most challenging thing we had to do just because of all the back work."
Randy admits that he had some private skepticism before the installation, but says it was proved entirely unfounded.
"It went in almost perfectly," he says. "It was absolutely beautifully done."
John and Randy are both proud of the project for the way the team came together and overcame challenges like that one. That kind of collaboration, they say, occurred throughout the lifecycle of the project, from beginning to end.
"I'm proud that we started out in a team atmosphere, and we ended that way," John says. "We kept it together throughout the project. And the results speak for themselves."
Randy agrees:
"My happiest thought was when we were turning it over, and I was standing on the second floor overlooking the atrium, thinking about the teamwork that got us there," he says. "We made it on time and within budget, and I walked away knowing that I would love to do another job with the exact same team all the way around."
"Sometimes you leave a job and you think, 'Thank gosh it's over, I don't have to worry about it anymore,'" he adds. "I never felt that way on this project. When I left, it was almost a sad moment. The experience was so good, I wished it could continue."
At the same time, John and Randy are also proud of the project due to the impact it will make on the community. Pediatric sports medicine is one of the fastest growing sub-specialties in orthopedics, and their new building will offer preventative care and conduct valuable research for young athletes. Located as it is on the new campus, it will also help meet the needs of patients who live in cities north of Dallas.
Moving forward, TDIndustries is looking forward to continuing to make a positive impact for Texas Scottish Rite. As mentioned previously, they are already working with them again on an expansion of the previously-existing campus. They were hand-picked for that project due to their success on the Orthopedic and Sports Medicine Center.
"What I hear from the owners is that they want the next project to be built as nice as the last one," John says. "We've set the standard. Future projects are going to be modelled after that one."
For more on TDIndustries and their long history of successful projects, visit https://www.tdindustries.com/For more on the company's culture of Servant Leadership in particular, check out https://www.tdindustries.com/our-company/our-culture/