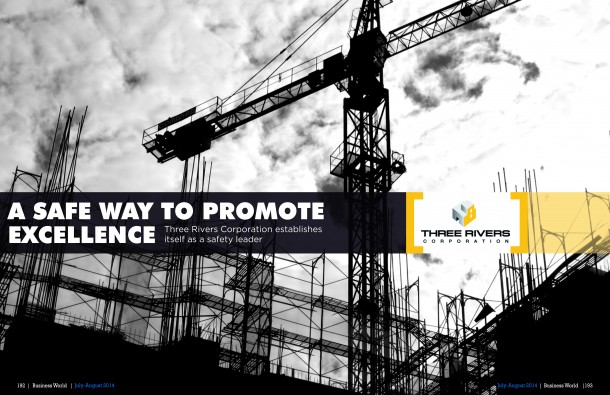 A Safe Way to Promote Excellence
Three Rivers Corporation establishes itself as a safety leader
Three Rivers Corporation is a place where continuity matters.
Many of its executive leaders have been part of the business for most of the 38 years since it was founded in 1976.
It employs a staff of 400 at its home in Midland and the range of general contracting and design/build services are throughout the state of Michigan – most often with long-term repeat customers.
Three Rivers is a diversified company in the sense that it provides mechanical services for the chemical industry, at chemical plants and research laboratories, along with architectural services in industrial, healthcare, commercial and institutional settings. Support services are also available to HVAC, sheet metal, case work, pipe fabrication, structural steel and architecture.
Self-performed work is done across nine trades – carpentry, casework, structural steel, pipefitting, welding, millwrights , sheet metal, HVAC and plumbing – which allows for cost effective turn-key projects where Three Rivers can provide those trades, in addition to handling the management of the entire project.
Mechanical services typically comprises about 50 percent of the business, according to Dan Kozakiewicz, the company's president, while design/build and general contracting make up the other half, with a 10 percent variance in either direction.
Still, while the list of offerings is impressive and the customer footprint the business has established across nearly four full decades is without question, much of the success reflects back to one thing:
In fact, it takes about five minutes of chatting with Kozakiewicz and his Three Rivers colleague, Safety Director Paul Crivac, to understand just how seriously they take the well-being of their people.
"Our most important asset is our people," Kozakiewicz said. "We have a philosophy of taking care of our people and there's nothing more important than that to them and their families. From a business side, and all of our employees understand this, you can't work while you're injured. We can't deliver our services if we don't have people on-site that are able to perform their work.
"It's also important to our customers for obvious reasons, but especially when you're working in the chemical industry. Construction can be categorized as hazardous work, but when you work in a chemical plant it can be especially hazardous. There's opportunity for difficulty in a lot of instances."
Injury frequency has decreased and the emphasis on safety has increased during Kozakiewicz's 28-year tenure with the company, which has coincided for all but two years with Crivac – who's celebrating 30 years with the company this year and was named the 2013 Safety Leader of the Year by the Greater Michigan Chapter of Associated Builders and Contractors.
Crivac,as Three Rivers'safety director,is the focalpoint for all safety communications, updates, investigations, inspections and safety training. His recent efforts led to a standardization of the company safety manual to better acknowledge and share safety communication, and he has consistently recommended corrective actions to mitigate hazards based on safety reports and data.
Three Rivers has refined its safety approach into a five-point program whose foundational tenets are a top-down commitment from management to the craftsman, a strong safety program that makes all elements easily accessible and understood, a culture that instills the belief that all unsafe acts are preventable, an emphasis on continuous improvement and documented sustainability of results.
"It's a great program," Kozakiewicz said. "We keep raising the bar, and that's exactly what we need to keep the fire burning and challenge us to achieve high performance. Safety never sleeps and the potential for injury never sleeps either."
Alongside Crivac's individual honor from the ABC chapter, the company as a whole was one of four recognized as diamond-level winners of the 2013 Safety Training and Evaluation Process (STEP) awards. Those honors both recognize companies who excel in the safety field and also evaluate areas where their safety program can be improved.
Three Rivers Corporation also qualified for and won ABC's 2013 National Safety Excellence Award. To reach the diamond level and qualify for the national award, a company must have an incident rate at least 50 percent less than the National Bureau of Labor Statistics average for the current year and each of the past two years, and have an experience modification rate – a number used by insurance companies to gauge both past cost of injuries and future chances of risk – at or below 0.70.
More than 2,000 contractors participate in the competition annually, and Three Rivers' National Safety Excellence achievement was equaled in Michigan by only Fisher Contracting Company of Midland and G.E. Insulation of Sanford. Three Rivers has also earned the award, which can't be won in consecutive years, six times since 2000.
"We've gotten to the point where it's not difficult to get buy-in from employees. We try to maintain a culture where the people feel that they're part of it," Crivac said. "We've developed to a point where our concern isn't 'Are people going to do the right thing?' We're past that.
"Our job is to keep people informed and motivated to work injury free. The award thing is great and we promote that. People like to know how they're doing and they appreciate the positive feedback. Perfection is hard to attain, so it's understandable when you deviate – but you have to have a plan to get back on track."
AT A GLANCE
WHO: Three Rivers Corporation
WHAT: Privately held general/mechanical contracting and design/build company whose products range from chemical and research facilities and specialty commercial and medical buildings to municipal offices, schools, sports facilities and retail stores
WHERE: Midland, Mich.
WEBSITE: www.TRCcompany.com