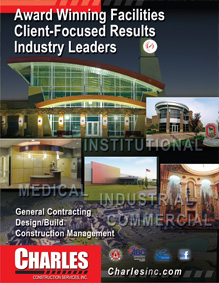 Charles Construction Services Inc. provides a wide-range of comprehensive construction services. Based in Findlay, Ohio, the company's exceptional workmanship and service has earned the confidence and trust of clients in over 24 counties. Many of Charles' clients have enlisted their services for additional projects – the very best indicator of customer service and satisfaction there is.
The company has a significant range of skills, and their projects range from industrial, institutional, medical and senior living to commercial construction, renovation and expansion. Charles Construction Services can provide affordable custom designs, but also works on traditional design-bid-builds, where their ability to carefully study detailed construction documents prepared by client's architects and engineers has made them highly competitive.
The company also offer construction management services, where they coordinate and supervise the construction process form the conceptual development stage all the way to the final handover – a service they provide on a timely and economic basis.
Family culture
Charles Construction Services is a family run business with a total of 80 employees, 14 of whom staff their office. That element of family ownership helps set the business apart in the marketplace because it has led to a stronger-than-average corporate culture, where employees communicate and are actively involved in the leadership of the business.
"We've really formed a great leadership team, working close with the office staff to keep them appraised," says Hardy Hartzell, Director of Business Development.
Hartzell joined the company as a project superintendent in 2000. Before he came aboard, he had turned down several other job offers and came to Charles Construction because it's a family-run business. "There was emphasis on the quality of work and the personal relationships working for a family-run business," he says.
Charles Construction Services' relationships with suppliers and sub-contractors are as strong as their relationships in-house. The company's tradespeople were constantly involved with the strategic development of the company's new business plan in 2011, Hartzell says. The company made a strong effort to reach out to them, and make themselves readily available if they had input or questions.
Emphasis on quality
Also setting Charles Construction Services apart in the marketplace is their commitment to quality. Since the company self performs 60 to 70 per cent of their workload – and utilises a trusted base of subcontractors for the rest – they are able to exercise strict quality control, allowing their work to consistently exceed client standards.
In addition, the company sets themselves apart with their commitment to the environment. Being a green and sustainable company is at the forefront of their construction services nationwide. About five of their most recent projects have been LEED-certified buildings. "We're very safety-oriented and very energy-efficient," Hartzell says.
Finally, the company places their community high on their list of priorities – another feature that helps them stand above the crowd. Recently, they held their annual Charity Golf Classic to benefit Open Arms, a local domestic violence and rape crisis services center. They've been commitment and dedicated to Open Arms for more than a decade.
"We had overwhelming support," says Hartzell. "People like to see you're giving back to the community and know you're a part of the community. You're not just here to do the job."
University of Findlay
Charles Construction Services is particularly proud of their most recent project – the University of Findlay Science wing addition, one of their recent LEED-certified works. The Owens Community College building, with the rolled sealing, was another flagship job for them because it is located in the company's hometown. "I'm pretty proud of that one because I was the superintendent on it. I'm a little bit biased," Hartzell says.
Another project the company is proud to showcase is the Ohio State University, whose signature "O" is recognized as a local landmark. "Everybody recognizes that O, no matter where they are," says Hartzell.
It is these types of projects that have landed Charles Construction Services numerous prestigious awards over the years. The industry recognition holds significant value for the company because people want to "associate with a winner," Hartzell says. "The more awards you have in your stable, the more highly you're thought of and recognized."
Moving forward, Charles Construction Services aims to continue to build the high quality projects that will help solidify their reputation in the industry. A downturn in the economy in recent years has provided a challenge in that arena, however. To combat that downturn, the company has worked hard to keep their brand relevant and vital.
Last spring, they began specifically working on improving their brand recognition – a critical component to their business model, especially now, Hartzell says. "I've worked hard on it this summer in our hometown and now I'm looking to get our brand out there."
Finding new and repeat work is an important reason why they offer as many construction services as they do. Charles Construction Services wants to be as much as they can for their clients. "We really and try and be their main contacts for any service and construction work they may have," Hartzell says.
The company's new service, Continuous Care, is a post-project service they offer as a means to continue helping the client once a project is completed. Once they are hired, the company aims to make every client a part of the Charles Construction Services family, Hartzell says.
Bidding for a sustainable future
One of Charles Construction Services' priorities is to foster their relationship with Marathon Petroleum and their sister company, Hancock Structural Steel, to provide ladders, mezzanines, platforms and structural steel. Hartzell recently returned from a trip to Kentucky looking to expand to steel fabrication. Since returning, they've secured five projects to bid on. "It's a huge feather in our cap for me to get invited down there," he says.
Hartzell would like to see Hancock Structural Steel and Marathon Petroleum sustain a steady workload going forward. Marathon has about six refineries across the United States, which will help maintain steady work for the company.
He also sees the company expanding into the manufacturing. For example, they've recently secured a project with Rosenboom, who construct custom crafted cylinders. Their project is to build a 100,000 square foot addition onto Rosenboom's facility. "These are the kind of manufacturing companies we're looking for, those that aren't just relying on the United States economy. They have a global market. That's the emphasis right now," he says.